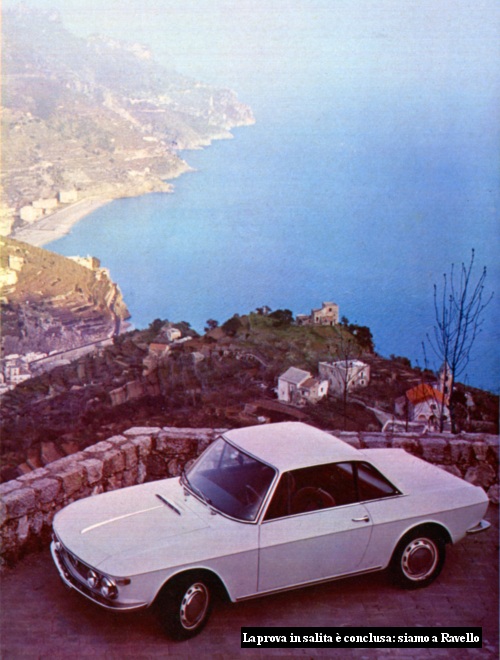 The proof is in the driving.
A Fulvia serviced by us will drive you anywhere anytime. And back home!
Again and again and again. As many times as you like.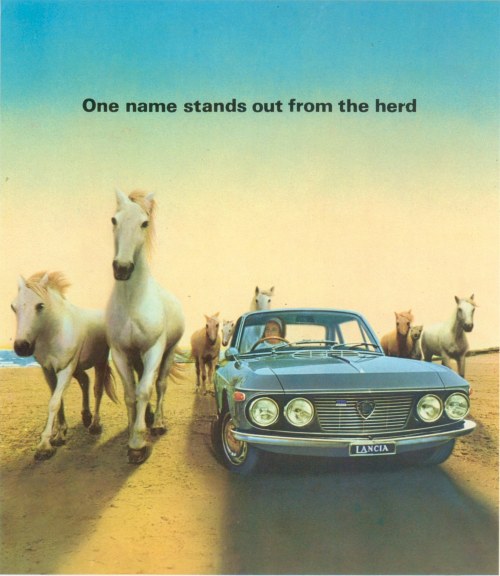 Much ahead of its time. Every mile with a smile.
Beauty. Balance. Precise. Safe. Reliable. Even today hard to beat.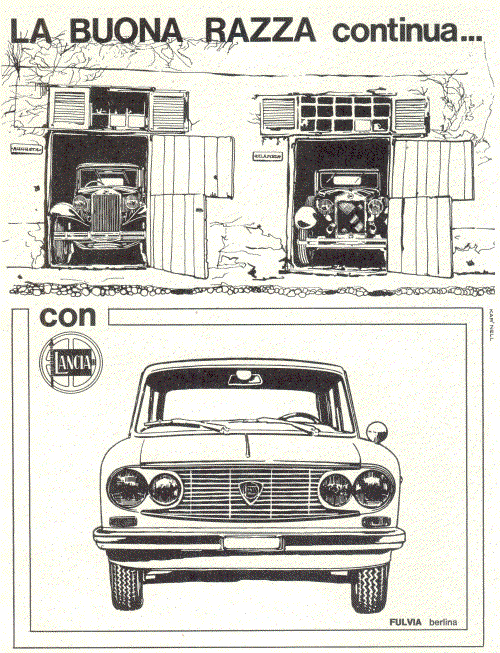 ... continues today. We are proud to participate.
50 jaar op Lancia.



De ervaring.
De kennis.
De gereedschappen.
Uw Lancia is bij ons in goede handen.
Afstellen van de motor. Revisie van remmen, bak, motor, besturing, onderstel. Carrosserie. Lassen. Dorpels. Deel restoratie. Rolling restoration. Totale (bare metal) restauratie. APK. Prepareren voor regularity rallies. Betrouwbaar. Veilig. Wij doen het graag.
Huib rijdt op Lancia sinds midden jaren 60. Appia. Flaminia. Flavia. Fulvia. Beta. Gamma. Thema. Sinds 1996 rijdt Huib weer dagelijks op Fulvia, zo'n 45.000 km per jaar. Huib heeft totaal meer dan 2 miljoen km op Lancia gereden waarvan 1 miljoen km op Fulvia.
Te koop.
Foto's versnellingsbak.
Over Casa Fulvia.
Werken bij Casa Lancia.
---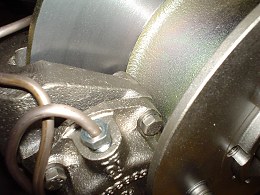 Dunlop brakes. An excellent system if in order. If we take a series 1 Fulvia or Flavia or a Flaminia to the government test station, the inspector always comments "This car brakes better than most modern cars".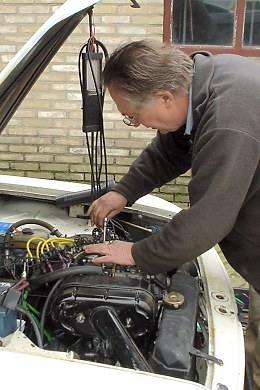 Adjusting carburators using a 4 column vacuum meter.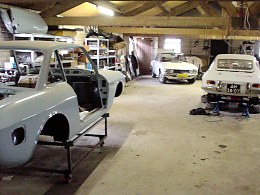 Inside the workshop.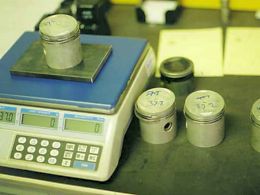 Checking the weight of pistons.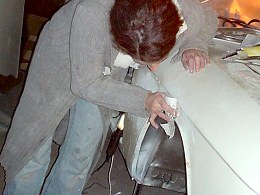 Customers are welcome to work on their own cars.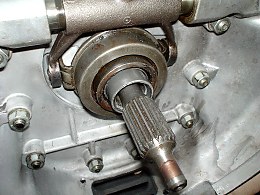 Clutch housing of a series 2 gearbox.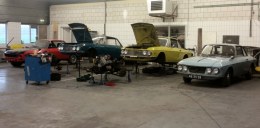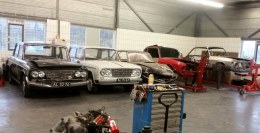 ---

Wir warten, reparieren und restaurieren Fulvias.
Huib benützt seine Fulvia im Alltag seit 1996, 45.000 km pro Jahr. Er hat bereits mehr als 1 Million Kilometer auf Fulvia gefahren.
Nebst dem normalen Unterhalt übernehmen wir u.a. Karosseriearbeiten und Schweissen, Reparatur oder Revision von Motoren, Getriebe, Bremsen, Aufhängung, etc.
Wir haben die Erfahrung, die Ausrüstung, die Dokumentation, das Wissen und die Verbindungen, um alle Arbeiten effizient und erstklassig auszuführen.
Die Casa Fulvia ist in der Nähe von Breda, Niederlande. Kommen Sie uns besuchen! Jeder Lancia Fahrer ist ein Freund.
Zu verkaufen.
Fotos von Getrieben.

---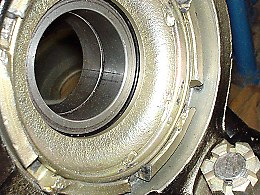 Swivel with wheel bearing.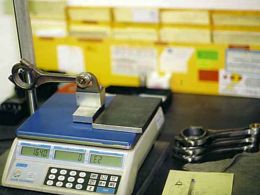 Checking the weight and balance of big ends and small ends.

Cutting away rusty steel.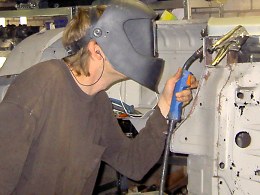 Welding the left sill, front.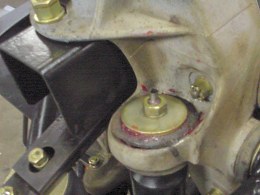 Subframe detail.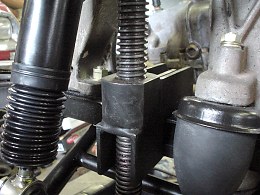 Our special tool to lift the front spring

.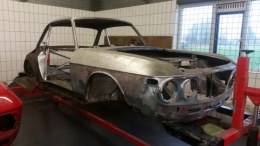 ---


Lancia workshop
specialising in
Lancia Fulvia
50 years on Lancia.
The experience.
The knowledge.
The tools.
We service, repair, restore and preserve Lancia's.
Huib bought his first Lancia in 1968 (Flavia coupé) and has owned and driven Lancia's ever since. Annebel bought her first Lancia (Flaminia Touring convertible) in 1969. In 1996 Huib went back to the Fulvia for daily transport (45.000km per year, summer and winter). Huib has driven Lancia Appia, Flavia, Flaminia, Fulvia, Beta, Gamma and Thema for over 2 million kilometers. On Fulvia more than 1 million kilometers. We know exactly which part and which bolt goes where. We know the exact torque. No surprises.
Apart from standard maintenance, work includes bodywork and welding, repair or overhaul of engines, gearboxes, brakes, suspension etc.
Casa Fulvia is in near Breda, the Netherlands. Please visit us. Every Lancia driver is a friend.
For sale.
Pictures of gearboxes.

---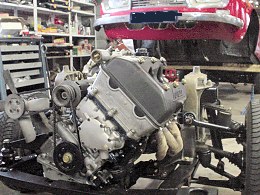 A complete subframe restoration including engine and gearbox overhaul.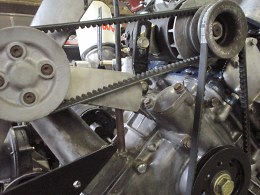 Detail of a series 1 Fulvia engine showing the dynamo with its double pulley and radiator fan.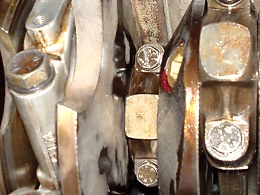 Detail of crankshaft showing one main bearing and two conrod bearings under the narrow V angle.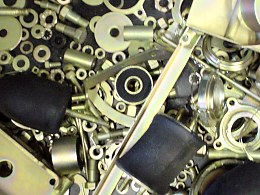 Parts blasted and zinc plated. To correctly torque bolts it is necessary to clean and de-rust all parts.
---
Links.
Fulvia forums.
English,
Italiano,
Deutsch,
Nederlands.
Documentation for Lancia Fulvia.
Parts sourced by us.
Electronic distributor
Dunlop wheel brake cilinders
Oil pump
Engine valves